UniBank Donates $10,000 to Community Harvest Project
August 12, 2019
WHITINSVILLE, MA – UniBank recently announced that a $10,000 donation was provided to the Community Harvest Project located in Grafton, MA. UniBank's donation will help the Community Harvest Project in their efforts to ease hunger and provide fresh fruits and vegetables to residents in need.
The Community Harvest Project is a non-profit farm that engages volunteers to grow fresh fruits and vegetables to provide to those experiencing hunger.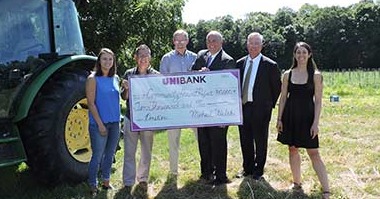 Through their volunteer farming programs, education initiatives, and community partnerships, the Community Harvest Project brings thousands of community members together each year to improve access to healthy 

"We're grateful to be a part of the Central Massachusetts community, and for us, giving back is a crucial part of what we do – it is who we are. The work being done at Community Harvest Project, to help feed those in need within our local neighborhoods is astounding, and reflects the true fabric of care and compassion within our community – we are honored to be a partner in this important work," stated Michael W. Welch, UniBank CEO.foods for individuals and families in need across Worcester County. In a typical year, Community Harvest Project works with around 8,100 volunteers to donate over 300,000 pounds of food amounting to about 1 million servings!
As a community bank, UniBank is committed to supporting local communities. UniBank is a proud supporter of youth development, community development, affordable housing, and environmental concerns.
Learn more about Community Harvest Project