$3,000 Contribution Supports Northbridge Beautification
UniBank is pleased to announce that the bank recently contributed $3,000 in support of the efforts of Northbridge Beautification to bring back flower pots along the median/island located at the Memorial Square section of Whitinsville. UniBank's contribution covers the initial cost of 
purchasing planters and planting materials for the project which will begin in the spring of 2019.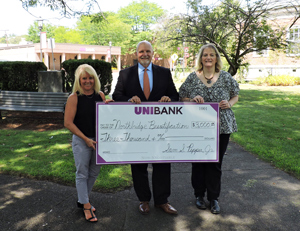 The Northbridge Beautification group is co-founded by Northbridge residents, Cheryl Tivnan and Laurie Leeman. The group was approved by the Northbridge Board of Selectmen and Town Manager to help enhance the beauty in various areas throughout Northbridge. Other local businesses have also supported Northbridge Beautification by donating to the wreath project that will decorate several main roads in Northbridge with wreaths this winter.
Northbridge Beautification is funded solely through donations and the group is also seeking volunteers. For more information about donating or volunteering with the group, email
northbridgebeautification@gmail.com
.